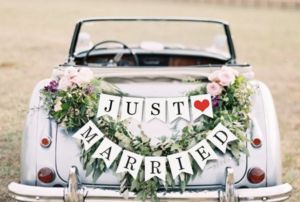 It's March and in the Lowcountry that means two things, it's pollen time and wedding season!!  The rest of this month we will be taking a look at some iconic Charleston wedding venues on our social media on Wedding Wednesdays!  Before we get specifically into the Charleston wedding scene, we thought it would be fun to look at some trends and statistics from across the nation.
Nationally, the lingering effect of the pandemic on the wedding industry, in that there were actually more weddings in 2022 since 1984 with 2.5 million weddings across America.  With the increase in number of weddings, there has also been an increase in the cost of weddings.  The average cost of a wedding was up $2,000 from 2021 and rang in at $30,000!  South Carolina came in just above the national average at $32,000 per wedding.  Looking to spend a little less?  Utah came in as the least expensive state to have a ceremony coming in at average cost of $16,000.  
Traveling to Utah to save, brings up the idea of the destination wedding!  In 2022, 20% of weddings were destination based endeavors.  The average attendance at a destination wedding was 50 guests compared to 131 guests for a traditional wedding event.  90% of couples cite climate as the top reason for choosing a destination wedding.  This makes sense as the average temperature for Charleston in March is a delightful 67 degrees.  
We hope to show off a little bit of this beautiful weather combined with idyllic locations to say "I do"  during the next four weeks of Wedding Wednesdays on our social.  We also look forward to seeing and featuring some of our studio owners wedding work over this time as well.  Here's to a happy wedding season to all the lucky couples tying the knot in the coming weeks!
-The Cirque Team
*Thanks to The Knot, Pearl Source, and Ampere and Travel for the statistics.