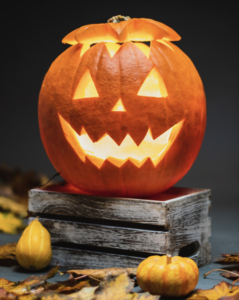 A little history of Halloween in America
When the Irish fled the potato famine in their country in the 1840s, they brought their Halloween traditions with them. The celebration spread across the country, until the mischievous Halloween pranksters reached an all-time high in the 1920s. Some believe community-based trick-or-treating became popular in the 1930s as a way to control the excessive pranksters.
Then During World War II, there was sugar rationing in America.  Because of the shortage of sweet stuff, trick-or-treating wasn't that big of a thing during WWII. After the rationing ended, it was all systems go on the candy-collecting front. Candy companies began launching advertising campaigns to cash in on the ritual and make sure kids were clamoring for their products to show up in their candy buckets and spare pillowcases.
Fast forward and now Halloween is the second largest commercial holiday in the country.  It ranks second only after Christmas. Consumers spent approximately $9 billion on Halloween in 2019, according to the National Retail Federation.  Spending was down a bit in 2020 because of the COVID-19 pandemic, but Americans still forked over $8 billion overall, or an average of $92 per person.
The background of a scary movie and that tri-colored candy that some find so scary
The classic 1978 horror film "Halloween" can be easily recognized in just one image: the psychotic Michael Myers in his iconic pale-faced mask. Without a doubt, it's one chilling look that has struck terror into the hearts of partying teens in slasher flicks.
The movie was actually filmed on such a tight budget that the crew used the cheapest mask they could find: a $2 Star Trek Captain James Kirk mask. They spray painted it white and reshaped the eye holes, making William Shatner look incredibly creepy.
Some people find Candy Corn creepy to eat and would argue that candy corn tastes like chicken feed, though that's not how it got its original name. Created in the 1880s by George Renninger, it was sold to the masses by Goelitz Confectionery Company (now Jelly Belly Co.) at the turn of the century.  Because corn is what was used to feed chickens, the creation was called "Chicken Feed" and the box was marked with a colorful rooster.
We hope you have enjoyed some of these fun facts about Halloween and may even give you something to discuss with your clients the rest of this week.  Lastly, remember that our Cirque Costume Party is on Friday, October 28th and everyone who participates will get a Chic-fil-A gift card.  
*Credit goes to USA Today's Ten Best and Good housekeeping.com for being the sources for these fun facts on Halloween