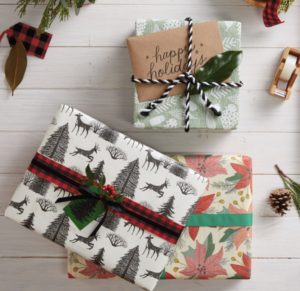 It is hard to believe, but it is almost Turkey day with Christmas right around the corner!  As we enter the busiest time of the year in beauty professional world, it is important to take time to remember your clients who make everyone's business possible.  Today, we will look at a few ways to make your clients feel special during the upcoming Holiday Season.
The first and most obvious way to show appreciation is with a gift for your clients.  This may seem daunting if you have a large client book,  but you can break it down into a tiered system to make it easier.  One option to start this breakdown is to recognize your five or ten "best" clients.  You will have to determine who you consider to be your best clients; it may be the ones who spend the most, who have referred the most new clients or maybe have been with you the longest.  It is up to you how you make this distinction.  While your best clients will still get the same gift, try to have a more personal gift versus a generic gift card.  This could be a candle, Christmas ornament, or even a small gift basket of one beauty product combined with one or two local food products.  
From there you can recognize your "regular" clients with a holiday card and a $5 or $10 Starbucks Gift Card.  If you run the numbers and this is going to cost too much, then you can skip the gift card and replace it with a one sentence personal message.  For a lot of clients, this short personal message will be worth more than any gift card.   
Lastly, if you have clients who just come in once or twice a year around special occasions like the holidays or birthdays, you could give them just a signed Christmas card.  If you have run out of time or spent all your energy developing a strategy to recognize your better clients, you can always just tell your one-timers how much you appreciate their business when they visit this holiday season.
At the end of the day, if breaking down your client book and coming up with gift ideas is too daunting for you, make sure that you at least tell all of your clients how much you appreciate them this holiday season.  Remember that showing your clients that you care on a personal level whether with a gift or a compliment it can keep your clients happy during this holiday season!  
-The Cirque Team