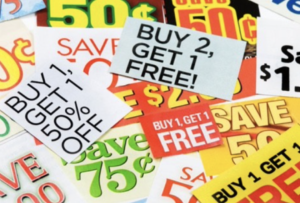 With Labor Day approaching, it is hard to believe that there are 116 days until Christmas!  This is a good time to start thinking about promotions for the Holiday Season or even a Fall Special!  It is important to remember that promotions are a good way to keep your items top of mind with clients and can provide an easier avenue for you to discuss your products.  Today, we will discuss a couple of different ideas about sales promotions and how you can make them effective for you.
There are numerous ways to conduct promotions, but start with something small and make it easy to understand.  If you have to explain it to people, then it is too complicated!!  Start with simple ideas like these two products (shampoo/conditioner) for $30.  With this type of offer, then you can put the two products in a small basket to set out on a table, shelve, or cabinet that is easy for your clients to see and touch.  It also makes for an easy photo that you can take and post on your social media to promote the special.  Seeing the products in their social feeds and when they come to the studio provides product reinforcement to your clients about the specials.
Another avenue, is your standard buy one get one 50%.   If you carry multiple product lines,  this can be a way to showcase various items together in your studio and in social media posts.  This type of promotion also allows clients to choose different products that they may want to try.   One caveat, is that this offer can be a little less straight forward because people may ask if they can buy a $15 shampoo and get 1/2 off get the $30 conditioner.  This is easily solved with the disclaimer of 50% off product is equal or lesser value of regular priced product.
Last up, if you have product that you are moving away from or trying to liquidate, then you can try a last chance basket, end of season sale or a fun $5 dollar bin.  These type of promotions can sound better than saying that you have a clearance section. Another benefit to these type of baskets is that you can put any product that you want in there.  This can provide an easier way to sell products  that you have struggled to sell or items you just simply aren't going to carry anymore.  If you try a $5 dollar fun basket, you can also put one or two higher end products in there to entice people to buy and try them.  
In closing, promotions can serve multiple purposes for your studio.  Whether it is getting people to try a new product or move out those last few bottles of shampoo, make the promotion work for you.   This means that you feel good about the offer and you will be able to discuss with your clients and sell more products at the end of the day.
-The Cirque Team