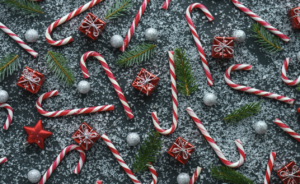 With Christmas almost here, we thought we would take a look at some Christmas traditions and how and where they started.  We hope this interesting tidbits will give you something to discuss as this holiday season draws to a close.  
Hopefully, you have a Christmas Tree up in your home or studio.  Have you ever wondered how this tradition started? 
Decorated trees date back to Germany in the Middle Ages, with German and other European settlers popularizing Christmas trees in America by the early 19th century. A New York woodsman named Mark Carr is credited with opening the first U.S. Christmas tree lot in 1851.
A more modern tradition is the Elf on a shelf.  Love it or loathe it, since 2005, moms and dads have been hiding a toy elf each night from Thanksgiving to Christmas. More than 13 million elves have been "adopted" since 2005 when Carol Aebersold and her daughter, Chanda Bell, published their book Elf on the Shelf: A Christmas Tradition. 
For a lot of people, the holiday season includes a date at the ballet with the Nut Cracker or watching a Charlie Brown Christmas but when did they first appear? 
The Nutcracker, with music by Pyotr Ilyich Tchaikovsky and originally choreographed by Marius Petipa, premiered Dec. 18, 1892, in St. Petersburg, Russia. It was performed for the first time outside of Russia in 1934 in England, and made its way to the United States in 1944 when it was performed by the San Francisco Ballet. 
Decades later, it may be hard to imagine that the beloved TV special, Charlie Brown's Christmas, was first rejected by CBS executives. But when it finally aired on December 9, 1965, almost half of all U.S. TV sets were tuned to the broadcast.
Last up, we have every kid's favorite, candy!  And with the Christmas season, this means Candy Canes!  But where did Candy Canes get their start?   
Whether devoured as a treat or hung on the tree as decoration, candy canes are the No. 1-selling non-chocolate candy during December, and date back to 1670 Germany. The red and white peppermint sticks arrived stateside in 1847, when a German-Swedish immigrant in Wooster, Ohio placed them on a tree. By the 1950s, an automated candy cane-making machine was invented, cementing their mass appeal.
We hope that these fun tidbits are things that you can use with clients, friends or family.  We hope that you have a great rest of the week as we lead up to Christmas!  
-The Cirque Team
*Thanks and credit to the History Channel for the answers to our questions.