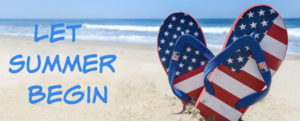 Memorial Day is traditionally, the unofficial start of Summer.  Get your studio ready with some summer promotions for your clients.  Here are a couple of ideas to get you started:  
Summer Makeover Packages: Create special makeover packages that are specifically tailored for the summer season. Offer a combination of services such as a haircut, highlights or balayage, a refreshing facial, and a manicure or pedicure. Package them together at a discounted price compared to individual services. Market these packages as a way for clients to refresh their look for the summer and get ready for vacations, events, or simply to embrace the season with a new style.
Sun-Kissed Hair Color Special: Highlight the vibrant and sun-kissed hair color trends of summer. Offer a discounted rate or a special package for balayage, ombre, or other hair coloring techniques that create a natural, beachy look. Emphasize the idea of achieving effortlessly beautiful hair that mirrors the glow of the summer sun. Share before-and-after pictures on social media to showcase the transformation.
Pamper and Protect Your Skin: Summer can be harsh on the skin, so promote services and products that focus on skincare and sun protection. Offer a facial treatment specifically designed to hydrate and rejuvenate sun-exposed skin. Bundle it with a discounted sunscreen product or a travel-size sun protection kit.

 
Remember to promote these summer promotions through your social media channels, email newsletters, and in-studio signage.  Engage with your clients by encouraging them to share their summer looks and experiences using your services to help build engagement and create a buzz around your studio this summer!
-The Cirque Team