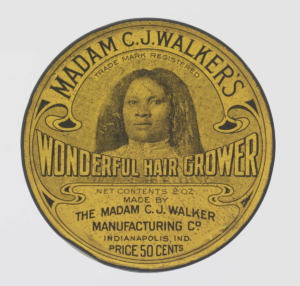 Today, we continue to share the love in conjunction with Black History month and share the story of Madame CJ Walker.  She was a pioneer in hair care products for African Americans and is thought to be the first black woman millionaire.  Below we take a deeper look at her story and the impact she had on America with an excerpt from the History Channel. 
Walker was inspired to create haircare products for Black women after a scalp disorder caused her to lose much of her own hair. Walker's method, known as the "Walker system," involved scalp preparation, lotions and iron combs. Her initial products like Wonderful Hair Grower, Glossine and Vegetable Shampoo began to gain a loyal following as she sold directly to Black women, using a personal approach that won her loyal customers.  
As her success grew, she started eventually started a beauty school and production facility.  She went on to employ a fleet of saleswomen to sell the products whom she called "beauty culturalists." At the height of production, the Madame C.J. Walker Company employed over three thousand people.
Walker's reputation as an entrepreneur was matched only by her reputation for philanthropy. She established clubs for her employees, encouraging them to give back to their communities and rewarding them with bonuses when they did.  At a time when jobs for Black women were fairly limited, she promoted female talent, even stipulating in her company's charter that only a woman could serve as president. 
She also donated generously to educational causes and Black charities, funding scholarships for women at Tuskegee Institute and donating to the NAACP, the Black YMCA, and dozens of other organizations.  She is remembered as a pioneering Black female entrepreneur who inspired many with her financial independence, business acumen and philanthropy. 
We can only hope that this spirit lives on in people today.
-The Cirque Team